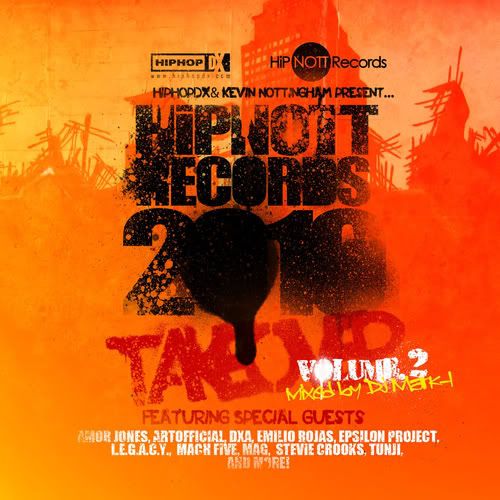 Oh yes!! We made it! Check Volume 2 of the highly acclaimed HiPNOTT Records Takeover 2010 mixtape series, featuring The Movement Fam's G.C. produced banger 'Seasons Change'. Download it FREE below!
HiPNOTT Records delivers Vol. 2 of their two-part 2010 Takeover free download mixtape series. Presented by HIPHOPDX.com and KevinNottingam.com, this 22-track lyrically driven hip-hop montage is skillfully mixed by DJ Mark-1, who also created the intro, and displays a combination of emerging label signees alongside several hip-hop heavyweights. While Vol. 1 hit listeners with an aggressive trunk worthy hip-hop energy, Vol. 2 provides its antithesis with a more laid back, thought provoking, headphone hip-hop sound.
HiPNOTT Records 2010 Takeover Vol. 2 talent includes ArtOfficial, Amor Jones, DXA, Emilio Rojas, Epsilon Project, Hawdwerk & Jansport J, L.E.G.A.C.Y., Mach Five, MaG, Stevie Crooks, and Tunji of the group Inverse, as well as HiPNOTT artists Cymarshall Law, Has-Lo, E Reece, Spectec & Amiri, Jermiside & Danny Diggs, WEB and The Movement Fam (Cee & Bekah, Notion, Tommy Gunnz).
"The artists that we work with and those signed to HiPNOTT have the same things in common -- they want to be put on, they want the masses to hear their voice, they want to share their story," HiPNOTT Records COO, Kareem Fort said. "We created the 2010 Takeover mixtapes to showcase a variety of artists who each have their own unique interpretation of what hip hop is to them, and we stand behind their perspective 100%."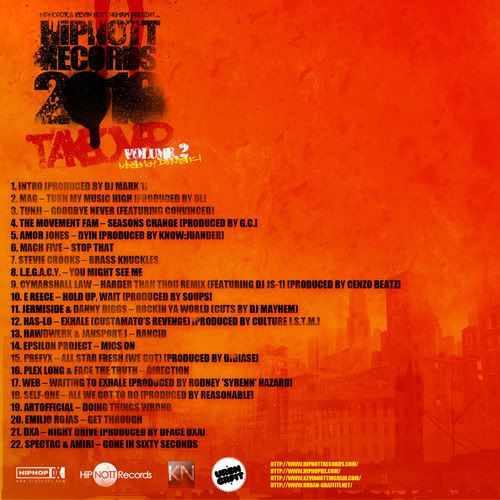 Tracklist:
1. Intro [produced by DJ Mark 1]
2. MaG - Turn My Music High [produced by DL]
3. Tunji - Goodbye Never (featuring Convinced)
4. The Movement Fam - Seasons Change [produced by G.C.]
5. Amor Jones - Dyin [produced by Know:Juander]
6. Mach Five - Stop That
7. Stevie Crooks - Brass Knuckles
8. L.E.G.A.C.Y. - You Might See Me
9. Cymarshall Law - Harder Than Thou Remix (featuring DJ JS-1) [produced by Cenzo Beatz]
10. E Reece - Hold Up, Wait [produced by Soups]
11. Jermiside & Danny Diggs - Rockin Ya World (cuts by DJ Mayhem)
12. Has-Lo - Exhale (Custamato's Revenge) [produced by Culture I.S.T.M.]
13. Hawdwerk & Jansport J - Rancid
14. Epsilon Project - Mics On
15. Prefyx - All Star Fresh (We Got) [produced by Dibiase]
16. Plex Long & Face The Truth - Direction
17. WEB - Waiting To Exhale [produced by Rodney 'Syrenn' Hazard]
18. Self-One - All We Got To Do [produced by Reasonable]
19. ArtOfficial - Doing Things Wrong
20. Emilio Rojas – Get Through
21. DXA – Night Drive [produced by DFACE DXA]
22. Spectac & Amiri - Gone in Sixty Seconds