Viewing entries tagged
Cincinatti
*As originally published on www.KevinNottingham.com. Interview by DJ Grain.
By now I am sure that everyone has heard of Tanya Morgan. If not, consider this an introduction to Tanya Morgan and in particular my main man Ilyas, winners of the MySpace Music "Show Us What You Got" contest.
The recent release of The Prelude is just a preview of what's to come. It's not too often that you find an MC that can switch styles at the drop of a hat and rap about any subject in the dictionary. Luckily, I was able to catch up with the homie Ilyas to talk to him about the pre-Tanya Morgan days, his activities for 2009, his other passions besides Hip Hop, and the music industry.
DJ Grain: What's good fam? Can you describe the pre-Tanya Morgan days when it was you and Donwill as ILWIL?
Ilyas: It was cool, we were just grinding. We'd done a joint called "So Far" with Nicolay back then and we were working with local producers and had a more "midwest/southern" sound then. We were still getting polished as artists a bit, learning to be more versatile and step outside of boom bap. Originally we were in a group in North Carolina called the "Jurx", and our extended fam was called the Abyss. But Don and I had better chemistry creatively with each other than what we did with everyone. Man! The creative arguments were wild. Especially when you're dealing with five cats in one group (laughs). But we got snatched up by a subsidiary of Warner Bros., a label on Lightyear and we got the group name ilwil.
DJ Grain: After listening to Beat Thieves Vol.1, on one of the tracks you said that you and Donwill were once enemies. Can you describe the rift once between you all.
Ilyas: Back in High School, a few dudes in my crew had silly beef with a few dudes in Don's crew. Also a girl that was like a sister to me "liked" Don a lot and that's all I'm gonna say about that. Let's just say he used to do her dirty and I didn't care for him much. I wasn't a hater. I just didn't care for him (laughs). And Don and his crew came to a dance at my school and went into the back area of the cafeteria and bombed the wall (graffiti). It was a dance me and a few others were in charge of for the most part, so we got in trouble for that shit (laughs). So yeah, I didn't like Don too much. Our crews almost got into it after a football game once, on some heads walkin' to the trunk type nonsense. Boy…the good ol' days (laughs).
DJ Grain: When did you first start rapping, and what was the name of the first track your recorded?
Ilyas: In first grade, I wrote my first four line rhyme in my head, but eighth grade is when I started and stuck with it. It was called "We In The House." It was my boy beatin' on a table to make the beat then we recorded it and kept dubbin' it to get it bassy. Then we played it out of one stereo while we recorded ourselves rappin' to it a tape recorder.
DJ Grain: Dope! What is the Hip Hop scene like in Cincinnati?
Ilyas: Honestly, it's kinda dead right now. It's going through a rebirth though. A lotta new cats are steppin' up. The cats that weren't successful quit or moved away. And the cats that are making moves moved away. That's how it goes here. Not much hometown support from DJ's and the radio station here. So I can see how cats get jaded. You're here and nobody cares. ou get on elsewhere then everybody wants to show you love then wonders why you moved away (laughs). Cincinnati…I love it, though. It's home - it's a Hard Knock City.
DJ Grain: Growing up, who were some of your favorite artists?
Ilyas: Ice Cube, MC Eiht, DJ Quik, Geto Boys, UGK, Tupac, etc. I was into the midwest, south, and west coast heavy. I got into the Native Tongues in high school though. Then later I grew into Nas, Mobb Deep and Jay-Z.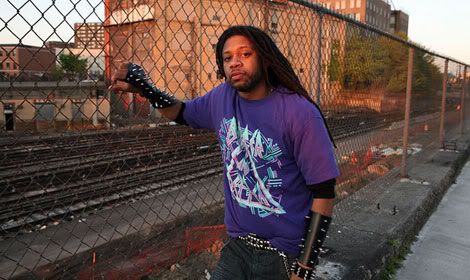 DJ Grain: How did you and Donwill link up with Von Pea?
Ilyas: Don and Von were on Okayplayer heavy and started trading music.
DJ Grain: When did you, Donwill, and Von Pea form Tanya Morgan?
Ilyas: Wow…hmmmm…2004, I think. I know that's when we recorded a song together for the first time.
DJ Grain: Who has been your favorite artist to work with?
Ilyas: Outside of Tanya Morgan, I would have to say my homegirl in the Bay, Czelena. She's an AMAZING talent and is always excited to work. I've done several solos with her and we're still doing more. And you can hear her on The Bridge on "Be You".
DJ Grain: After listening to your entire back catalogue, one thing I noticed was your versatility as an emcee. How would you describe your style?
Ilyas: I used to be a Kung Fu nut, and even studied Preying Mantis and Tai Chi for a bit. And I always loved Bruce Lee. Bruce would talk about having "the style of no style" and would say, "When one has reached maturity in the art, one will have a formless form. It is like ice dissolving in water. When one has no form, one can be all forms; when one has no style, he can fit in with any style."
So I pride myself in being versatile. My flow's a hoe…just cant be monogamous (laughs). I'm bein' silly but for real, I pride myself on being unpredictable. That's why all the solos I'm working on sound NOTHING alike. You'll see haha.
DJ Grain: Besides being an emcee, not many people know that you are an accomplished video producer. How many videos have you done and what artists have you produced videos for?
Ilyas: I've done a video for Ill Poetic to "The Beautiful". I'm working on a video for "Iswhat?!" I may be doing a video with Illogic. I did two videos for Tanya Morgan to "We Bad" and "How Low" and a video for ilwil to "The ilwil Theme". I'm working on a video for Tanya Morgan now too.
Those vids were cool because I was learning basic editing but I just got into special effects and 3D graphics and animation, and I plan on shooting a video to every song on The Prelude. And trust me…its some real next level shit. I feel just as they say a producer/emcee is a dangerous combination. A video editor-director/emcee is even more dangerous, because you can express your song visually to fit your idea perfectly.
DJ Grain: If you had to choose between being and emcee and producer, which one would you choose?
Ilyas: Emcee because I have a lot to get off my chest verbally. I love that expression, and to be able to explain complex things in simplified musical form.
DJ Grain: The recently released project The Prelude was in my opinion a great album. What type of feedback have you gotten since it's release?
Ilyas: I leaked it free because the economy sucks right now, and I know I don't have money to buy anyone's album so I feel its only fair. But on another note, I'm going to work on a very unique marketing idea being that I have the gift of video production and multimedia design.
DJ Grain: How do you feel that the digital age has influenced the music industry?
Ilyas: It's forced it into a rebirth. It obliterated the old structure that honestly was strangling the industry if you ask me. Basically, just like Tanya Morgan is coming up with a bunch of industry folks we know that start small and are climbin' the ladder. The old industry had the same, got in high places, and then they just catered to their friends and trends and it got old, so now there needs to be reconstruction so that the new blood can get a shot.
DJ Grain: What artists would you like to collaborate with?
Ilyas: Flying Lotus, Aphex Twin, Jay Electronica, M.I.A. (love her), Madlib, Andre 3000, Maynard of Perfect Circle, and in a perfect world…Bjork.
DJ Grain: Do you feel that artists may have to change their style in order to become "mainstream"?
Ilyas: Not necessarily change your style but you have to make yourself accessible to the masses. They've been dumbed down by society. So you have to package whatever you're doing in a way they can digest it. It's cool to be a creative genius but you have to understand that if you give it to them raw, they may not be able to interpret. It's like me talking to my son about God and The Universe. I wouldn't go into my Jungian studies, occult studies, and "otherworldly" experiences all at once to explain. I give him pieces over time so as he matures, one day all the pieces will make sense and he'll see the puzzle that Daddy gave him to look at. Give them pieces. Do you eat a steak in one gulp?
DJ Grain: What plans do you have for 2009?
Ilyas: Push The Prelude all year. Drop Brooklynati (the new Tanya Morgan LP) in April and push that too. And pretty much sharpen my video skills all year and see what happens. It's going to be a damn good year though. I can feel it. It'll come easy too because we've worked so hard for it, and will continue to.
Thanks man and tell everybody to check out my site at http://www.i-el.net. 100!