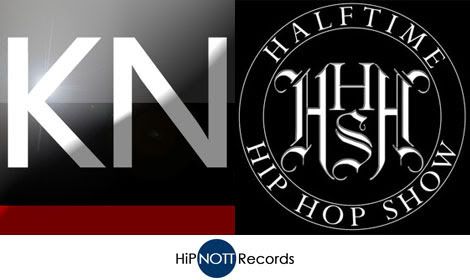 Another thing I'm slippin' on. Kev worded me up about this, totally forgot. About to check it now. Big ups to DJ BlacqueStarr for supporting both Kev and HiPNOTT Records, we're mad excited right now. Check what Kev had to say:
Friday night, DJ BlacqueStarr of WUOG 90.5 FM (the University of Georgia's radio station) dedicated a portion of his show to HiPNOTT Records. We premiered the second single from Nobody Famous' Order Up! Vol 3, "Electric." DJ BlacqueStarr also played some new music from Cee & Bekah, as well as a track from G.C. and Tokyo Cigar's new EP, The Cave Kingz.
But the highlight of the night was when I called into the show. This was my first on air interview and I'd like to thank DJ BlacqueStarr for giving me the opportunity and giving my artists some shine. We spoke for at least a half an hour about KevinNottingham.com, the label, our upcoming releases, the site's remix contests, and we even delved into the future of music, digging, etc.
So in case you missed the show, you can listen to the interview after the cut. If you wanna check the whole show, which I highly recommend, you can do that here.
Download the Halftime Hip Hop Show Interview with Kevin Nottingham