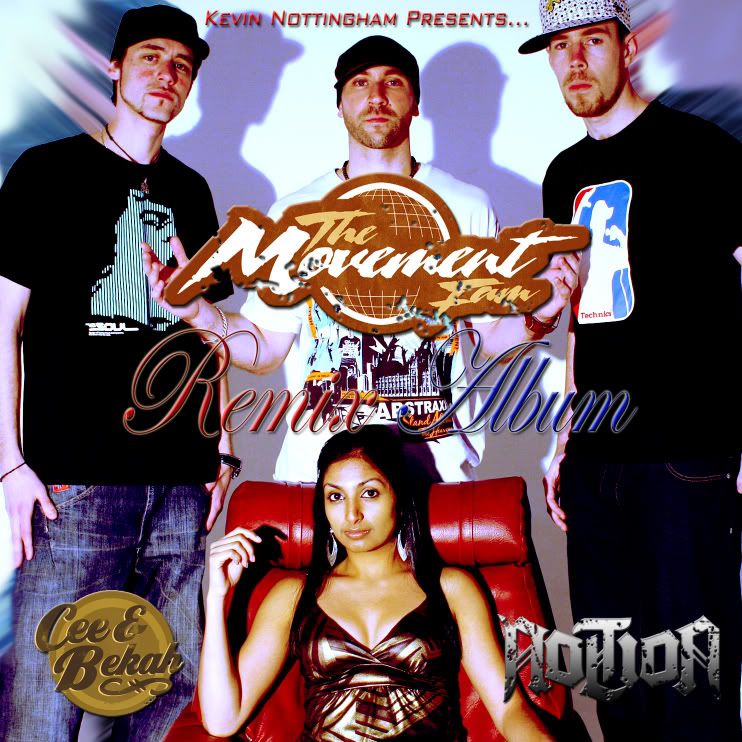 It's finally here!!!!!
After maybe 6 months in the making, Kevin Nottingham Presents The Movement Fam Remix Album is in the building.
For those who aren't familiar with this, producers from around the world were able to download 12 acapellas from Notion's World Domi-NoTiOn and Cee & Bekah's The Soul Movement Volume 2 mixtapes, and submit remixes for this project. We had well over 100 remixes submitted, which blew our mind.
We ended up including remixes from producers from all over the planet, including Hungary, Belgium, USA, Denmark and Australia. We worldwide, baby! And if any producers out there wanna remix our songs for the hell of it (a couple cats have hit me up already about it), you can still download the acapellas from the original Kevin Nottingham Movement Fam Remix contest page.
Big ups to ALL the producers who submitted remixes, there a lot of fire and it made our job pretty hard! I can't thank Kev enough, though. Dude held us down when it got difficult for a bit there, never gave up, and we got this one over the line. Plus it's a hot ass album!
My apologies to Isbjerg for misspelling your name, homie!! Shit, my bad! And HUGE props to Notion for lacing the artwork! Boom!
Download Kevin Nottingham Presents The Movement Fam Remix Album
Check out the blog post on Kevin Nottingham.com
Check out what WYDU had to say about it
1. Notion - Enter My World (produced by MIDIMarc)
2. Cee & Bekah - Once Again featuring Theory (produced by Remot)
3. Notion - Payback (produced by Kinetic)
4. Cee & Bekah - Feel Your Touch (produced by S.T.T.R.E.S.S.)
5. Notion - We So Fly featuring Tommy Gunnz (produced by Sima)
6. Cee & Bekah - Missing You featuring Luke Vexx (produced by Isjberg)
7. Notion - Cold Steel featuring Cee & Theory (produced by Kinetic)
8. Cee & Bekah - Day Dreaming featuring Notion (produced by S.T.T.R.E.S.S.)
9. Notion - Pedal Push (produced by Kinetic)
10. Cee & Bekah - Anything For You (produced by MIDIMarc)
11. Notion - New Wave featuring Whisper (produced by Tokyo Cigar)
12. Cee & Bekah - Missing You featuring Luke Vexx (produced by MIDIMarc)
13. Notion - Pedal Push (produced by Isjberg)
14. Cee & Bekah - Feel Your Touch (produced by DnM Productions)