OK, Nate Kane AKA Nathan Mathers, brother of Hip Hop star EMINEM has been busted for a DUI (Driving Under the Influence). Now, either this is Nate just being Nate or he's trying to pump up his bad boy image in order to further his fledgling career, you know, appeal to those in his target market or pretend audience.
Actually that's not fair, Nate actually has a few tracks out on his MySpace page, he's on Twitter and probably on Facebook too! His stuff is respectable, I mean he's having a go and good on him for trying..although his flow sounds somewhat similar to that of his famous bro, and I suspect their may be some ghost writing coming from big Em himself to add that authenticity. What I really want to hear is the HIP HOP NEPOTISM Unearthed Project, where by all the other non famous, cousins, hangers on and other wanna be Hip Hop stars that have a name to help them platform from..
I see Nate Kane at the top, what we really need is the Donny Wahlberg and Nate Kane remix album with guest spots on the album from Fonsworth Bentley and K Fed (yeah just when you thought it couldn't get any realer, Kendra from Girls At The Playboy Mansion spits a '16' on the bonus track with Joaquin Phoenix!).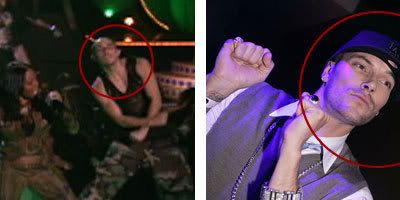 That's all for now peeps, stay tuned for the next rant from MiLK!
Joaquin Pheonix, rap parody...

Nate Kane