Yup. It sure as hell ain't.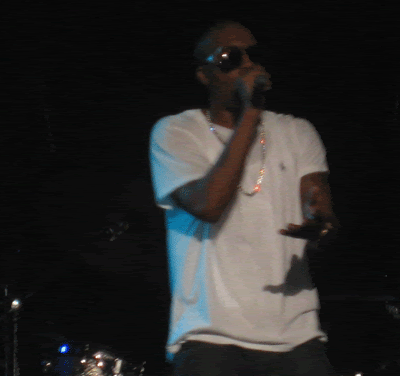 The Kanye West Glow in the Dark Tour (which shouldn't really have been billed as such; that's what it was called last year and this was a totally different show) most definitely brought it back, or at least Nas did. We got there a bit late and missed openers Kid Cudi and Consequence, which I was pretty disappointed about. Scribe did his thing; he was never much of a performer but he has some anthems that always go down well, plus he held it down in what could be his first arena show.
Nas is probably the last of my Hip Hop idols that I have yet to see live; until last night that is. And dude didn't disappoint. 'Illmatic' is my fave album of all time, and he did a medley of 'New York State of Mind', 'It Ain't Hard To Tell', 'Represent', 'One Love' and 'Life's A Bitch' before getting into standout tracks from damn near all of his back catalogue.
Nas also isn't renowned as a quality live performer but just his presence was enough; the band was dope and it seemed like there was a lot of happy Hip Hop heads in the mostly white, suburban, teenage girl, pop-friendly crowd.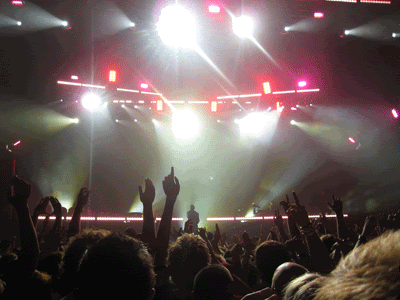 So, to 'Yeezy. This is the fourth time I've seen dude live, and every time, if nothing else, it's entertaining as hell. The production value was at a similar level to his set at Good Vibrations earlier in the year, with a massive lit up backdrop and stage pulsating with the music.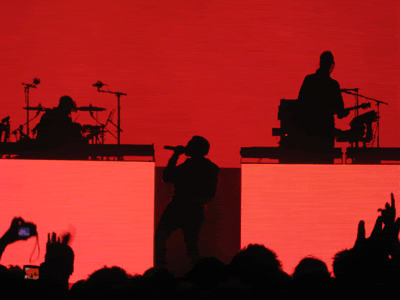 Contrary to popular belief, and Kanye's recent interview with extraHit mag, dude actually rocked half the '808s & Heartbreak' album, opening with 'Paranoid', and throwing in 'Welcome To Heartbreak', 'Amazing', 'Love Lockdown' and 'Heartless', all of which went down incredibly well, even with the autotuned mic.
The obligatory slew of hits was performed, as is necessary with a radio-friendly crowd, most of whom probably didn't own any of his albums (or at least not 'College Dropout'). The old Kanye blended well with the new Kanye, as he often utilised the autotune when performing his back catalogue of hits; most of the time, it worked well.
Some dick in the crowd threw a glow stick at 'Ye at one point, and he went off at them, in rhyme, using the autotune. 'What if it hit me in my pretty ass face?' he screamed, half serious. 'Do you wanna fuck this up for everyone? Make yourself known, come up here and I'll smack you in your fuckin' face'. Gold.
The only criticism would be his lengthy interludes at the end of tracks, where he improvised and just kept on singing. If I was sitting down and didn't have sweaty tools pushing me, it'd be aight, but since we'd been standing for a hot minute, it got a bit frustrating.
All up, an amazing show from both Nas and 'Ye. Worth every cent of the $140. Click on the images to check out Nas' MySpace and Kanye's blog.