Last night, one of my childhood dreams came true: I got to see Slash live. Ever since my folks got me a guitar at the age of 9, Slash has been my idol. The dude just fucking drips cool (or 'swag' as we rappers like to say), and even though I would have loved to catch him 20 years ago, in 2010, dude hasn't lost his appeal.
So due to my wicked ass job and dope connect at MTV, I scored a VIP ticket to the launch of the new MTV Classic channel at Palace last night. As soon as we walked in the door, we realised it was sponsored by Jagermeister and shots/bombs were downed immediately. The rest of the night was a tad blurry from then on, but I have enough video on my camera to help jog my memory.
As the Becks and Jager did their thing in my bloodstream, and to the bloodstream of my work colleagues, the vibe was incredible. There were shaggy wigs and top hats everywhere, as well as the ubiquitous flannel (I was reppin', trust). When comedian Adam Hills intro'd the night, the crowd got wild. And when Slash hit the stage, it was like 1992 again. I swear, that Gibson guitar is the sexiest fucking thing on earth.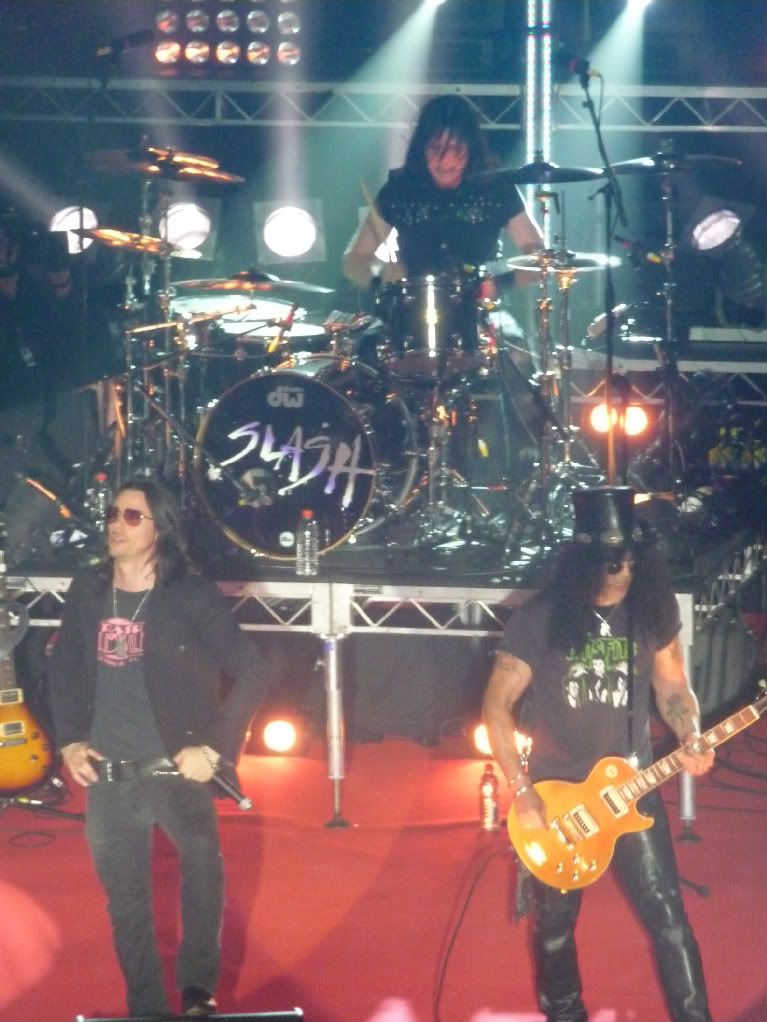 And Slash didn't disappoint. Being drunk and asking a colleague's boyfriend 'Oi what song is this again?' every 5 minutes, I don't really remember the set but I know that the Velvet Revolver lineup was there, and I was told it was Scott Weiland on vocals but then I read he left in 2008. Can anyone help (check out the pics)? He murked it though. After doing a shitload of songs I didn't know, Slash was killin' a solo and all of a sudden the unmistakable melody from 'Sweet Child O' Mine' was belted out and it was fucking ON.
A lot of drunken singing was going on, and the awesomeness was tangible. Next up was 'Paradise City', which was just as rad. I have no idea what happened after that, really.
Shouts to CJ for the hook up! The after party was live though, got to shake hands with Kirk Pengilly from INXS in the bathroom and prop him for shagging Deni Hines, which was cool. A great night all round, the only issue being this wicked hangover and the 3 hours sleep prior to a 9 hour work day. Slash is a god.