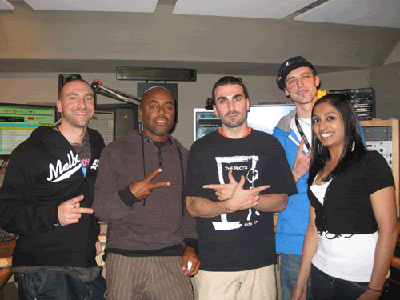 Week #5: The Decision
Aight, first post of the new year (although by the time y'all read this, it's most likely well into 2009). Happy New Year, folks, hope everyone had a safe and wild entry into the next 365. Now that the niceties are out of the way, let's get down to biz. So the past few posts, we've sorta given y'all some background as to where we came from and who we are, and now you might start to get what we're doing here.
The main reason you're even reading this right now is the big ass trip we undertook in September and October, 2008, to the USA and Canada (and New Zealand on the way home) to explore opportunities to extend our music to the other side of the globe (well, for us). So over the next bunch of posts, we're gonna break down exactly what we had to go through – as Australian artists, particularly – to make this trip happen, and then what we went through on the trip itself.
The decision to actually undertake this trip wasn't something that was taken lightly. We all work full time, so getting time off work would be an issue. It would cost anywhere between AUD$5000 and $10,000 per person (including all the shopping we planned to do), so getting the scrilla together would be a problem. Plus, Bekah and I have a mortgage, so we had to make sure that was covered. Shit was hectic.
But at the end of the day, the point of taking this trip was much more important than the details. Most of the interest in our music was coming from North America, so much so that we had built up enough contacts to warrant a quick visit to the homies in the northern hemisphere. We had grown fairly discontent with the Australian Hip Hop scene; I've mentioned this in earlier posts, but the politics, small-mindedness, tall poppy syndrome (cutting folks down who stand out from the crowd) and minimal market out here made us search elsewhere for an audience. And the interest from bloggers, producers, artists, managers, etc, from the US and Canada essentially made the decision for us.
The one thing that did it for me was my boss telling me around May that I had to take some leave before the end of September (bureaucracy, eh? lol I actually typed 'bureaucrazy', which seems even more appropriate) in 2008. So I was like, 'I'm not gonna waste a couple weeks sitting around Melbourne' and suggested this trip to Bekah and Notion, which I'd been thinking about for a while. They were initially apprehensive, mainly due to the finances and work pressures, but I persisted (see blog entry #4) and boom, it all came together.
Aside from the reasons listed above that could make taking this trip pretty damn difficult, we had people questioning what we were doing. Our parents (Notion and I are brothers) never really understood what we actually do with our music until they heard Notion mixing all the tracks for the latest mixtapes, so their initial reaction was of concern around money. Others felt we would be wasting our time in such a large, competitive market. Others were probably just jealous that we actually do something we love and are getting off our asses to make things happen for ourselves. But we definitely faced a lot of opposition.
So the decision was made, we were doing this. We were scared as fuck; Bekah and I lived in Toronto back in 2004 and hadn't been overseas since. Plus we planned to hopefully do radio and live shows, as well as record with folks and network our asses off. This wasn't gonna be no holiday (vacation, in American terms); it was just fun work. Well, most of the time, anyway.
Plug of the week: Along with a dope interview, Kevin Nottingham did lil spotlights on each of our mixtapes recently – check em out:
Notion – World Domi-NoTiOn (http://kevinnottingham.com/myblog/2008/09/15/notion-world-domi-notion/)
Cee & Bekah – The Soul Movement Volume 2 (http://kevinnottingham.com/myblog/2008/09/15/cee-bekah-the-soul-movement-vol-2/)
So until next time, stick with it, stick to it, stick at it.
And for those in Melbourne, the dude David Icke will be running one of his famous lectures on Saturday April 11th (the day after my birthday, son). If you wanna get educated on how the world really works, hit up www.davidicke.com.
Blessings,
Cee.
The Movement Fam.