Viewing entries tagged
Nike
I like Dunks.
I was never one to care too much about the kicks I wear, and although I own some colourful pairs I've never gone too crazy with it.
Well... if I ever was going to get crazy with it, these would be the shoes I would start with.
This particular pair of Dunk Low Premium kicks takes its inspiration from the glorious 80's movie that you just know you watched if you grew up in that era. That movie is Teen Wolf, from back when Michael J Fox was a teen heartthrob actor with his whole life in front of him.
Check these out...

Apparently there were only 72 pairs released worldwide, so if you want these hit up osneaker. They have a few smaller sizes left at the time of this post.
Good luck.
"I make black history every day, I don't need a month" Kanye West from 'Brand New'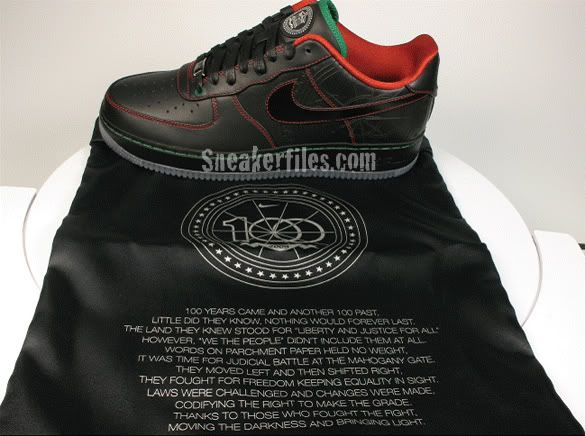 Man, I'm a fiend for Air Force 1's. I've never been a sneaker head really, but these kicks were the ones that got me at least to stay on my kick game. So when I saw these little babies on the Sneakerfiles blog, I had to post about 'em. I won't even re-write this stuff, but peep:
Nike commemorates Black History Month 2009 with this Air Force 1 designed with the colors black, green and red. The Air Force 1 was also last years base model which was developed for the month of February. This years model features a black base highlighted with red and green lining and accents, and what appears to be a translucent sole possibly revealing writing or graphics. Other details include a black heel pattern and special tongue label. Lastly, the Black History Month Air Force 1 will come in a black bag with a quote which can be read in text after the jump. Stay posted for specific release date.
"100 years came and another 100 past
little did they know, nothing would forever last
the land they knew stood for "liberty and justice for all"
however, "we the people" didn't include them at all
words on paper held no weight
it was time for judicial battle at the mahogany gate
they moved left and then shifted right
they fought for freedom keeping equality in sight
laws were challenged and changes were made
giving us the right to make the grade
thanks to those who fought the fight
moving the darkness and bringing light"