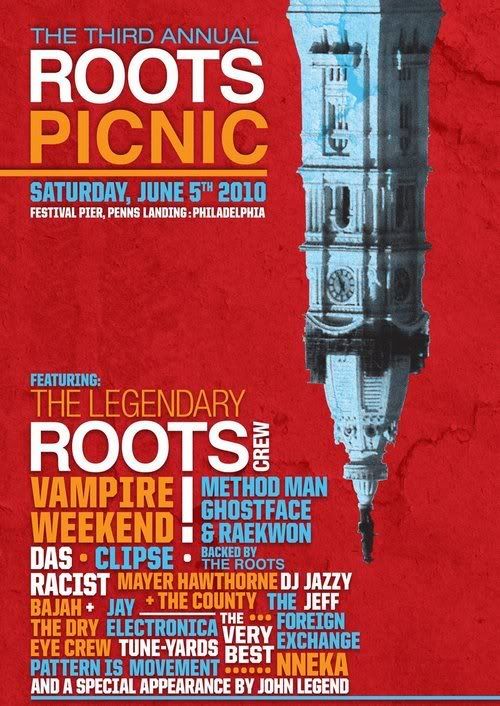 Aight, so I'm mainly blogging this out of spite. Fuck. Look at this line up. Look at it.
THIS is part of the reason The Movement Fam is moving to North America. Shit like this just doesn't happen down here. Goddamnit. Such an eclectic line up, it'd be worth every damn cent. Check it out and fume with me in a silent yet jealous rage...
Main Stage
2:00-2:30 Baja and Dry Eye Crew
2:50-3:10 Tune Yards
3:30-3:50 Foreign Exchange
4:20-4:50 Nneka
5:00-5:30 The Very Best
5:45-6:15 Jay Electronica
6:30-7:10 Mayer Hawthorne
7:30-9:30 The Roots with Wu + John Legend
10:00-11:00 Vampire Weekend
* DJs between all sets
** DJ Jazzy Jeff between sets starting after Jay Elec
Tent Stage
12:00-12:45 Memory Tapes
12:45-2:00 Local DJ
2:30-2:50 Pattern is Movement
3:00-3:30 Das Racist
3:30-3:50 Money Makin Jamboyz
4:00-4:30 Meek Mill
4:40-5:10 ?uest + Jazzy Jeff
5:30-6:00 Bajah and the D E C
6:50-7:30 Clipse
DJs
There's still some tickets left, you lucky motherfuckers, so grab em now!