The big homie Hustle Beats has been a big supporter of The Movement Fam from the jump. Coming out of Sydney, by way of Toronto, Canada, my dude is a talented producer, blogger and straight up hustler, and his grind is definitely something to admire.
Hustle has released a gang of mixtapes when he was in TO, and from what I understand this is the first disc that he's released out of Australia (homie, correct me if I'm wrong!). Y'all might have caught our single from the tape, 'Livin' This Life' with the other big homie from TO, Theology3, which we dropped a month or two back.
Finally, the tape, entirely produced by Hustle, dropped today and y'all can cop it below for free. Eighteen tracks, MCs and vocalists from all over the globe - y'all can't go wrong.
Make sure you roll past my dude's blog, iHustle Daily, and say what up!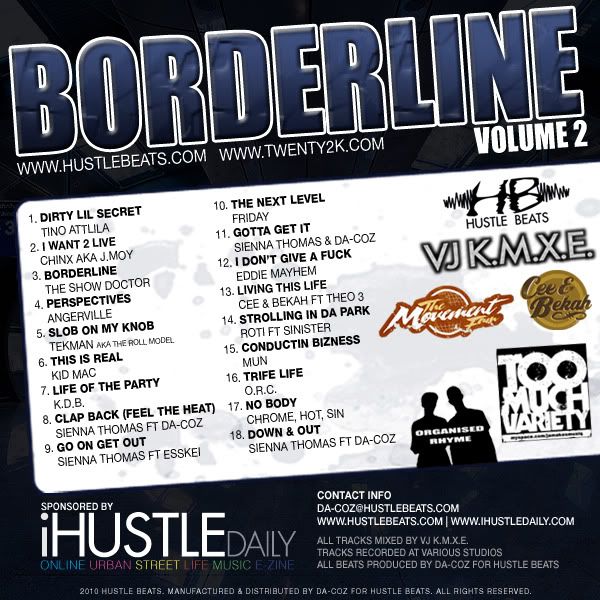 BORDERLINE VOLUME 2 MIXCD TRACKLISTING
01. Tino Attila – Dirty Lil' Secret
02. J. Moy – I Want To Live
03. The Show Doctor – Borderline
04. Angerville – Perspectives
05. Tek Man – Slob On My Knob
06. Kid Mac – This Is Real
07. KDB – Life Of The Party
08. Sienna Thomas – Clap Back feat Da-Coz
09. Sienna Thomas – Go On Get Out feat Esskei
10. Friday – Next Level
11. Sienna Thomas – Gotta Get It feat Da-Coz
12. Eddie Mayhem – I Don't Give A Fuck
13. Cee & Bekah – Lvin' This Life feat Theo3
14. Roti – Strollin' In The Park feat Sinister
15. Mun – Conductin Bizness
16. Organised Rhyme Cartel – Trife Life
17. Nobody – Chrome, Hot, Sin
18. Sienna Thomas – Down & Out feat Da-Coz
All tracks produced by Da-coz for Hustle Beats
All tracks mixed by VJ K.M.X.E.
DOWNLOAD Hustle Beats - Borderline Vol 2 Mixed by VJ K.M.X.E.