Anyone who has frequented Brunswick St in the past year or two would have almost certainly noticed a poster or scribble on a chalkboard about Simon Wright and/or The Eclective. We were lucky enough to open for the boys at the Evelyn Hotel last year, and the whole band are great guys and very talented musicians.
After travelling up and down the east coast of Australia touring, the boys managed to get in the studio and bang out their debut EP. This coming Monday 2nd November (Cup Day Eve) will see Simon and the band launch their EP at the Evelyn (351 Brunswick St, Fitzroy), so if you're in Melbourne, get on down!
Simon managed to slip me a couple joints from the upcoming EP, the smooth 'You Don't Know' (which I'd heard before in the live format) and the laidback, jazzy 'Holding On'. Really hanging to hear the EP in full, so I managed to catch up with Simon to have a chat about what's been happening in the world of the Eclective...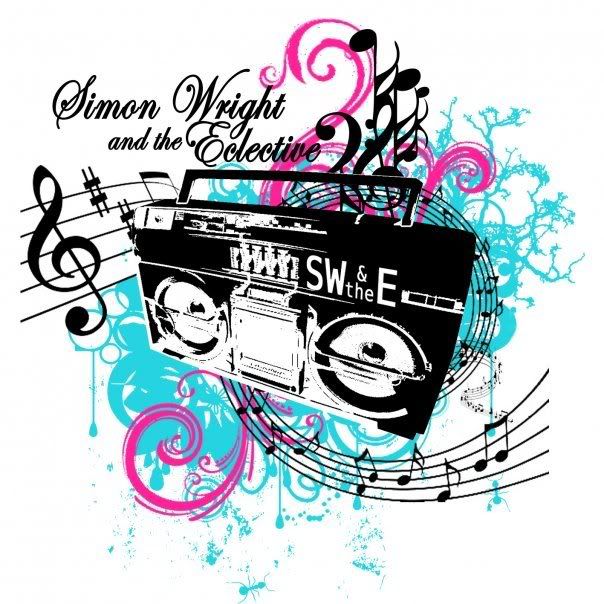 Hey Simon, how's things man?
Real good Cee, Summer's comin' and things are happenin'. I love this time of year.
So every time I hear about you, you're somewhere in the country, touring. What's been happening lately?
Well actually the band has been layin' low lately. We've been in the studio finishing off the EP and in the lab workin' on some new material. Basically gettin' ready for a big summer.
I know you've been playing your ass off for years with a variety of bands and musicians, so you're finally dropping the EP! Tell us about it.
Yeah man, it's been a long time comin'. My first band "The Wright Brothers" released an album, but since then I haven't had a solid enough project to warrant the investment. The time I've spent in Melbourne putting together "The Eclective" has been amazing so far and we all felt it was time to start working on the next level. The band are all very focused at the moment. The EP itself is a collection of what we've been getting up to since "the Eclective" first began, it's eclectic obviously as tha'ts what we are all about. There's are elements of funk, soul, reggae, latin and of course Hip Hop. "Choi", the producer, has done great stuff with it. We wanted to capture as much of the live element as possible as ultimately that is where our strength is.
What's the line up for the band for this project? Have you played with these guys for a while?
Yeah this is the official "Eclective" line up these days. Hasn't changed much in the past year:
Drums - Travis Constable
Bass - Owen Downie
Keys - Andrew Vollmer (He also did a lot of the Sax on the EP)
Guitar - Tristan McCoppin
and Myself - lead vocals, acoustic guitar and MC
We also had a few friends come in for sessions including:
Candice Monique and Kate Kelsey Sugg - Backing vocals
Nick - Trumpet
Ivan "Choi" - Percs, bits n bobs (He also produced it)
Oscar O'brian - Trumpet
Gus Rigby - Sax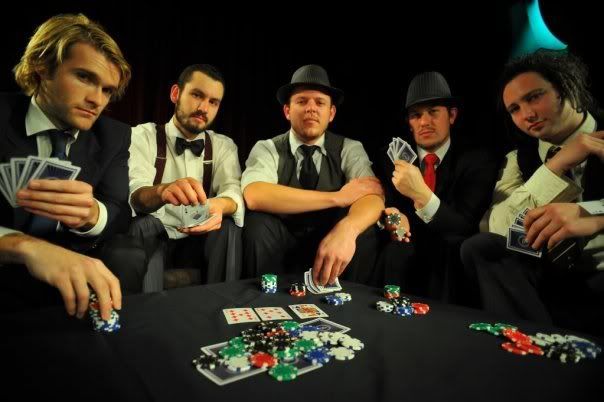 You've got the big launch for the EP at the Evelyn, next Monday 2nd November. What can the people expect from the show?
This will definitely be our best show yet. We are launching a bunch of new material, as well as remakes of our old favorites. We have spared no expense on sound and lights and our supports are both amazing, "Direct Influence" and "Unleash the Nugget" two of my favorite upcoming Melbourne acts. The night is goin' to be great fun!!
I've always been curious, especially since your style is so varied, but who are you main musical inspirations?
I've been inspired by so many people over the years and all of them are very different. I'd have to say my biggest musical influence has been my father. He was giggin' around while I was a kid. I didn't realise until recently how much that influenced my music and life in general. Other than my old man, though:
Ben Harper
Michael Jackson
Stevie Wonder
Common
Talib Kweli
Bob Marley
Fat Freddys Drop
De La Soul
Jimmi Hendrix
Muddy Waters
........ so many more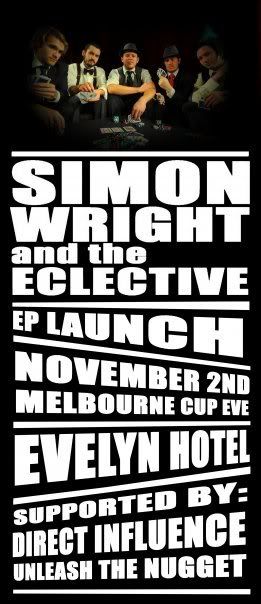 Do you plan to tour the country off the back of the EP?
Yeah we have an east coast tour planned for Dec/Jan and down to Tassie in Feb. Then hopefully over the west coast late Feb.
What's next from here? Are you working on any other projects?
My focus is with the "Eclective" 100% at the moment. I'm writing a lot and the whole group has really come together of recent. We're looking at getting professional representation and try crack the Aussie festival circuit. From there we'd love to get over to Europe. The next EP is already in planning, so just keepin' it movin' really
Any other gigs coming up or residencies we should know about?
Well it has not officially been released yet but we return to the Evelyn for our Monday night residency straight after our EP release. We have taken a couple of months off there to finish the EP and write some new material, but we are lookin' forward to gettin' back there for summer.
Hit us with your contact details so the people can get at you!
www.groovecollective.com.au
MySpace
Facebook