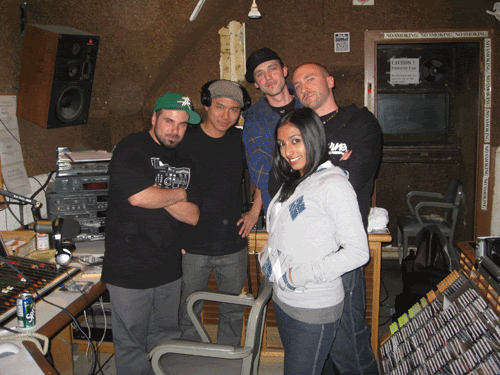 Week #2: Connecting The Dots
Alright, so Australian rappers. Weird, hey? I'm assuming it's mainly North Americans reading this, as the concept isn't that far fetched for locals. And besides, this is only the second instalment in this blog so I can't expect everyone to be on board just yet. But we're working on it.
So like I was saying in the last post, we (The Movement Fam) recently hit up the USA and Canada on a networking and radio trip, but I wanna start a bit before that. We've all been making music together for years, at least the best part of a decade, but we only really came together strong as a crew in 2008. So the real hustling took place this year. We'd dropped a couple mixtapes in the past and rocked a bunch of shows and what not, but we all had a feeling about The Movement Fam and these new releases (The Soul Movement Volume 2 and World Domi-NoTiOn). That's why we took the plunge and made the trip across hemispheres. And by the way, we're totally independent, we all work full time to support our music, so this wasn't a decision we took lightly. Financially it was a struggle, and we'll all be paying it off for a minute, but to us, we believe in our music so much that it really wasn't much of a gamble as an investment in our future.
Of course, we wouldn't just leave our shores on an expensive ass trip without laying down the groundwork and hooking up a gang of activities beforehand. So how does a group of Aussie Hip Hop/Soul artists connect with folks across seas? How we've been doing it for years – we were pen pals. And what happened to the old-fashioned pen pal system? That shit was raw. The excitement of receiving a letter written in a foreign hand, on foreign paper with foreign scents just doesn't compare with a message in your inbox. But I digress.
Clearly, the internet is the only way to efficiently and effectively communicate with like-minded folks all around our fair planet, and to be honest, we wouldn't be here today if it wasn't for the net. As the manager of The Fam, I spend the vast majority of my spare time split between the net and the studio. It's the main tool in our arsenal, besides the music, of course. And the beautiful thing about it is how things just randomly fall into place. For example, how are you reading this blog from relatively unknown Australian artists on www.Loud.com, a premier Hip Hop website in North America? Well, long story short, I hit up a producer on MySpace for beats; he put me in touch with his manager; we hit it off as he lives in Toronto and Bekah and myself lived there a few years back; he put me in touch with a respected blogger who jumped on board and has supported us unquestionably since; said blogger put us in touch with an industry friend; we met up with him in the US on the trip and clicked, and boom…here we are. All thanks to the internet. Oh, and our unwavering persistence. But that's for another week.
Plug of the week: So y'all can even feel what we're saying, you're best to check our tunes.
Go cop yaself a free download:
Cee & Bekah – The Soul Movement Volume 2 (link to: http://www.planeturban.com.au/download_mixtapes/cee_and_bekah_soul_movement_vol_2)
Notion – World Domi-NoTiOn (link to: http://www.planeturban.com.au/download_mixtapes/notion_world_dominotion)
'Til next time, love yourself, love your mother, love the internet. And the porn. It's heaps good.
Blessings,
Cee.
The Movement Fam.