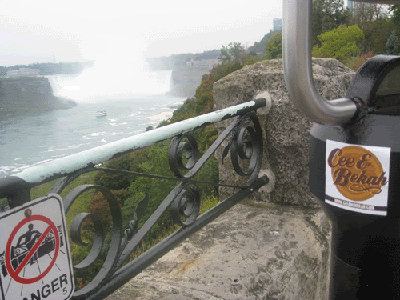 We took a bit of a pause from the Loud blogs lately...bringing it back...second last one I wrote too...
Week #7: Locking It In
Things were looking pretty good. We'd heard back from most folks that our contacts put us in touch with by mid to late June, and already we'd locked in a mainstream radio spot in Seattle; College radio, hair braiding session and a photo shoot in Toronto; a podcast and recording session in Oakland; a session with a bass player and an MC (Jermiside from the Lessondary Crew) in Atlanta; possible radio and shows in Denver; possible shows and studio sessions in Minneapolis; possible shows in Jacksonville; and a meeting with Eternia and an influential gentleman in New York (who happened to get us this very blog). We were vibed.
Now that we had enough information to start booking the trip, we skedaddled off to the travel agent to lock this bitch down. We knew that the earlier we booked our flights, the cheaper it would be, but it was hard because we didn't know where we were going until we had confirmation from enough folks – and even then, some of the confirmations were sketchy at best.
So we rocked up to the travel agent all excited. Here's how it went down (dramatic license, of course, has been taken):
Travel Agent: So, where do you guys wanna go?
Cee: Um, pretty much San Francisco, LA, Toronto, New York, Atlanta, Seattle, maybe Denver, maybe Jacksonville, maybe Miami. I think.
Travel Agent: Ooookay. Do you know how long you need to be in each city and the dates you want to go there?
Cee: Not really.
Travel Agent: Riiiight.
I think she wasn't too pleased to have our custom that day. But I gotta shout her out, she was great. It came down to this: in order to get cheaper flights, we had to lock something in soon. And if we went to too many cities, the trip would be stupid rushed and the internal flights would cost a fortune. Plus, we only had five weeks in total, instead of the original six, as Bekah's work were being assholes and refused to give her the extra time off. So we had to make a call. We ended up cutting Denver as it would have taken a lot more work to arrange shows; we cut Jacksonville as the city is so small, we'd be smarter to concentrate our energy elsewhere; same deal with Minneapolis; and we hadn't hooked anything up in Miami as yet so that one was reluctantly let go.
Even though it was tough, we now had a basic itinerary. Boom. As long as we had tentative dates locked in, we were good. So long story short, after a bit of shuffling around and triple and quadruple confirmations, we managed to book all the flights. The only thing was if we were going to change a single flight, it would cost us hundreds of dollars. So if shit fell through, we were going anyway. Such is the wonderful ways of the international – and US domestic - airline restrictions. And I realised after that the flight from ATL to NY was on a small ass plane – I don't fucks with small planes. We wanted to change it; we couldn't without paying. I said we'd get a Delta flight instead and just miss the original flight, but if we did that, the rest of the onward flights would be cancelled as it was part of the package. Goddamnit.
But once we had the tickets in our hands, we were truly excited. This was real; it was actually happening. It felt like a dream, as I had literally had dreams of being in Canada quite often since being back in Melbourne, and going back overseas – this time, strictly for music – was a sign that we'd been working hard enough to get to this level. And not only were we doing this, we were doing it all off our own back. One hundred percent independent. Man, we were proud as hell.
Bekah and I spent the next couple months slowly booking accommodation whenever we were bored at work and wanted to handle biz (I don't work where I did at the time of planning the trip so I can say it lol), with the assistance of DJ Grain in the ATL sector. So things were looking good…
Plug of the week: The kid Steve Duck at GroundUpHipHop.com has supported The Fam since the jump, lacing the artwork for 'The Soul Movement Volume 1' and even doing the Cee & Bekah logo. He hooked us up with a lil download section on GroundUp for our latest projects:
Notion – World Domi-NoTiOn (http://www.grounduphiphop.com/2008/09/14/notion-world-domi-notion-mixtape/)
Cee & Bekah – The Soul Movement Volume 2 (http://www.planeturban.com.au/download_mixtapes/cee_and_bekah_soul_movement_vol_2)
So until next time, listen to Esthero. She's a trip. It's like Portishead, Stephanie McKay and Jill Scott had a lovechild that was reared on Nine Inch Nails and copious amounts of marijuana. It's good.
Blessings,
Cee.
The Movement Fam.