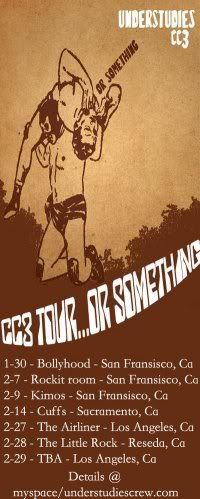 That's right, for all those in the West Coast area of the USA, we got a lil something for ya.
The homies The Understudies are embarking on a West Coast tour throughout January and February, with the first show kicking off tonight, Friday January 30th at Bollyhood, 3372 19th St @ Mission, San Francisco.
Over the month or so, the tour will feature The Understudies, Influence & Ro Knew, After Hijrah, Maleko & Optimus Rhymes, Incognito, and DJ MRC.
Click on the banner to check out the Facebook invite, and also peep the Understudies MySpace page for more info.