So, I went to Nimbin and Byron Bay for a week…something we should all do once in our lives!
It's the place to visit. Full of backpackers from every corner of the globe, the area fills you with an energy that lifts your spirit up and makes you smile. It's not often that you get a real feeling for what its like to be a foreigner/tourist in your own country, but this is the place to do it.
Apart from what you've already heard from mates and the interweb, this place has an abundance of artists of all types, from eclectic mini-gallerias to street coroboree's that inebriated as you are, it's possibly the best concert that you've seen at that point in the night. Then the sobering reality of a half eaten kebab, your undies on the outside of your jeans, and a whole bunch of people around the hostel know your name and smile the next day. You've already paid for a weeks accomodation and you say 'What the hell, it's a holiday', and the next two days are a blur of hotel rooms, smiling cocktail waitresses, street performers and beer, cheesy nightclub tunes and over-zealous bouncers who like nothing more than dishing out their justice to unsuspecting tourists.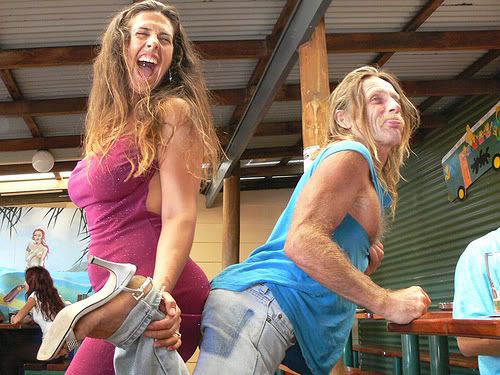 Then you sober up just long enough to wash down a double espresso, some bacon and egg concoction served to you by some out of town hottie, then jump in the car for a 7km trip to Nimbin. Now in your head you have the visions of Amsterdam in Oz, while in reality it's more like the remnants of the well meaning community hispter types, and misrepresented Indigenous folks who embody the essence of a free society where there is no 'mine and yours', it's just ours.
After drinking a special hangover drink, looking at local art, indulging in the local fare, 'kies from the local ladies in the alley, a visit to the museum showing a video of the local constabulary 'raiding' the place, various posters, pics and vids showing you the ills of modern conformity and ways in which to live outside it, it is a place where you can get lost, caught up and eaten up in food, art, culture, craft and community being.
Sitting at a café on Main St watching people walk by, I can see that this is a place that people gravitate to; it has a certain 'je ne se quois' that talks to your soul and makes it comfortable.