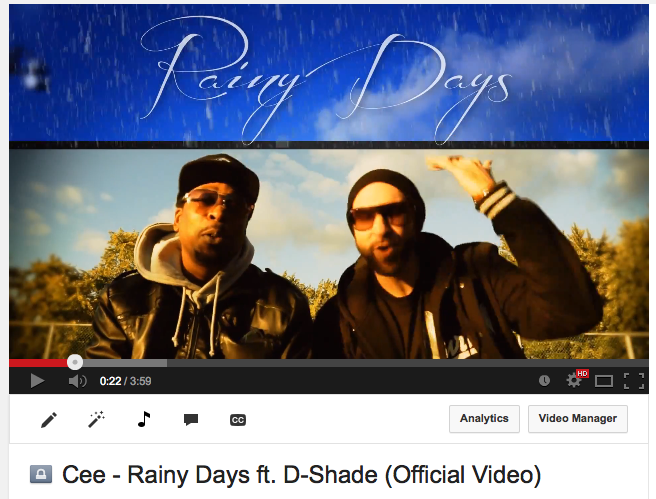 What it does, our people?
As we edge closer to Spring and the warmer seasons, the mood lifts, the skirts raise and the patio furniture appears. Oh, and the rain comes. So what better way to see in the next phase of the year than with a new video from The Movement Fam speaking on just that.
The first visual - and first single - from Cee's debut album 'This Is All I Know' is a dedication to the sustenance from the sky - 'Rainy Days'. The feelings of despair when the clouds turn grey can be overwhelming, but the fresh start given via the heavenly earth wash is what truly drives and inspires us. Produced by Sydney, Australia native P.R (Bone, Thugs N Harmony, Evidence, Blu, Onyx - and Notion's single 'Young & Crazy'), the tune features Montreal pioneer D-Shade (Shades Of Culture), and the chemistry between the two MCs is evident as they effortlessly trade verses across the soulful soundscape like they've known each other for years.
Shot in the Mile End neighbourhood of Montreal in the fall last year, Torontonian MC/director iLLvibe was in the 514 on the #SOTI tour. Via his post-production mastery, iLLvibe managed to turn an otherwise clear day into a fluctuating stormy canvas.
You can catch the video in HD on The Movement Fam's YouTube channel, or hit up The Movement Fam's Vimeo channel. The video will be officially released to the public on Friday February 28th 2014, but y'all get the bonus of checking for it right now!
Cee - Rainy Days ft. D-Shade (Official Video) from The Movement Fam on Vimeo.
'This Is All I Know' - featuring production from Grammy award winner Illmind (Kanye West, 50 Cent), Hezekiah (The Roots, Bilal), the multi-platinum Aussie Styalz Fuego (360, Busta Rhymes, Snoop Dogg) among others, with guest appearances by Ras Kass, Emilio Rojas, Hezekiah, two-time Grammy nominee Jonathan Emile and a gang more - is scheduled to drop digitally worldwide on April 10th via The Movement Fam's independent imprint. In the meantime, cop Cee & Dr. MaD's newly remastered 'Steps To The Peak' EP from either Bandcamp (digital and physical) or iTunes!
Check out more music and visuals:
We hope y'all enjoy the new music and visuals, folks. Once again, any sharing via social media or any of your channels is extremely appreciated. We're 100% independent with no financial or label support, so we depend on the love of the people to get our music out.
For bookings, interviews, production and enquiries, please contact Cee.
Thank you to everyone for all the support. It truly means a lot. Bless.
Much love,